"

I have a request ... please come back!"
— Audience Member, John C. Campbell Folk Series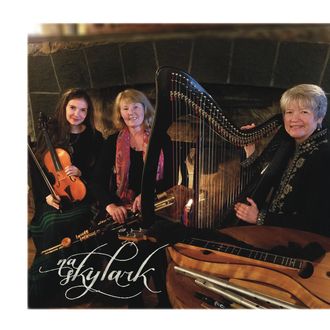 NA SKYLARK
celtic chamber ensemble
Think "Celtic Women" by your fireside: with Irish harp, uilleann bagpipes, fiddle, flutes, whistles, and song, this all-female trio goes straight to the source, sharing the music that inspires today's popular extravaganzas in its authentic, "pure- drop" form.
Discover the music that audiences have called "mesmerizing," "transporting," and "an absolute delight." To learn more about na Skylark, or to talk about bringing our unique Celtic sound to your event or venue, just scroll down for samples and an inquiry widget!
Performance Highlights
Southern Illinois Irish Festival (Carbondale, IL, 2022)
New Albany/Floyd County Library First Friday Concert Series (New Albany/Floyd County, IN, 2022)
Second Presbyterian Church Friday Recital Series (Louisville, KY 2022)
Harstad Fine Arts Series (Lexington, KY, 2021)
Owensboro Multicultural Festival (Owensboro, KY 2021)
Big Muddy Folk Festival (Boonville, MO - 2018)
"Kentucky Homefront" Radio Show (2016, 2017, 2019)
Louisville Irish Family Fest (Louisville, KY - 2014, 2015, 2016)
Kentucky Arts Council "Kentucky Crafted" Main Stage Artist (2016 - 2018)
Campbellsville College Performing Arts Series (Campbellsville, KY - 2018) 
Perelandra Concert Series (Black Mountain, NC - 2018) 
John C. Campbell Folk School Concert Series (Brasstown, NC - 2018, 2020) 
Great American Dulcimer Convention (2019)
Heartland Dulcimer Festival (Elizabethtown, KY - 2017 - 2019)
Kentucky Music Week (Bardstown, KY - 2018 - 2019)
The Grand Theater Concert Series (Frankfort, KY - 2016)
 The Carnegie Theater Concert Series (Newport, KY - 2015)
The Robin Theatre (East Lansing, MI - 2018)
Elizabethtown Community and Technical College Concert Series (Elizabethtown, KY - 2019)
Link Center Community Concert Series (Tupelo, MS - 2019)
University of Kentucky Healthcare Performing Arts Concerts, 2016-2019
Kentucky State Parks Summer Concert Series (Mammoth Cave, KY - 2016)
French Lick Resort (West Baden, IN - 2018, 2019)
Cathedral Evensong Concerts (Louisville, Lexington, and Brandenburg, KY - 2015-2019) 
Memberships and Associations: 
North Carolina Presenters Consortium
Ohio Arts Professionals Network (OAPN)
Kentucky Arts Council – In recognition of artistic excellence, na Skylark has been selected to participate in the Performing Artists Directory, a program of the Kentucky Arts Council, the state arts agency, which is supported by state tax dollars and federal funding from the National Endowment for the Arts.
Press Photos
Authentic Celtic "roots" music, arranged and performed with love and respect.
Who we are and what we do!
Contact Us!
na Skylark is available for concerts and events of all sizes, including music festivals, music camps/workshops, weddings, life celebrations, church services, and parties, as well as library, house-concert, and health- and senior-care facility performances. Want to book? Give us a bit of info below, and let's talk – and then let's fly!